Projects, Publications and Lectures
Environmental Fate and Transport Investigations:
Design, budgeting, project management and execution of scientific inquiries.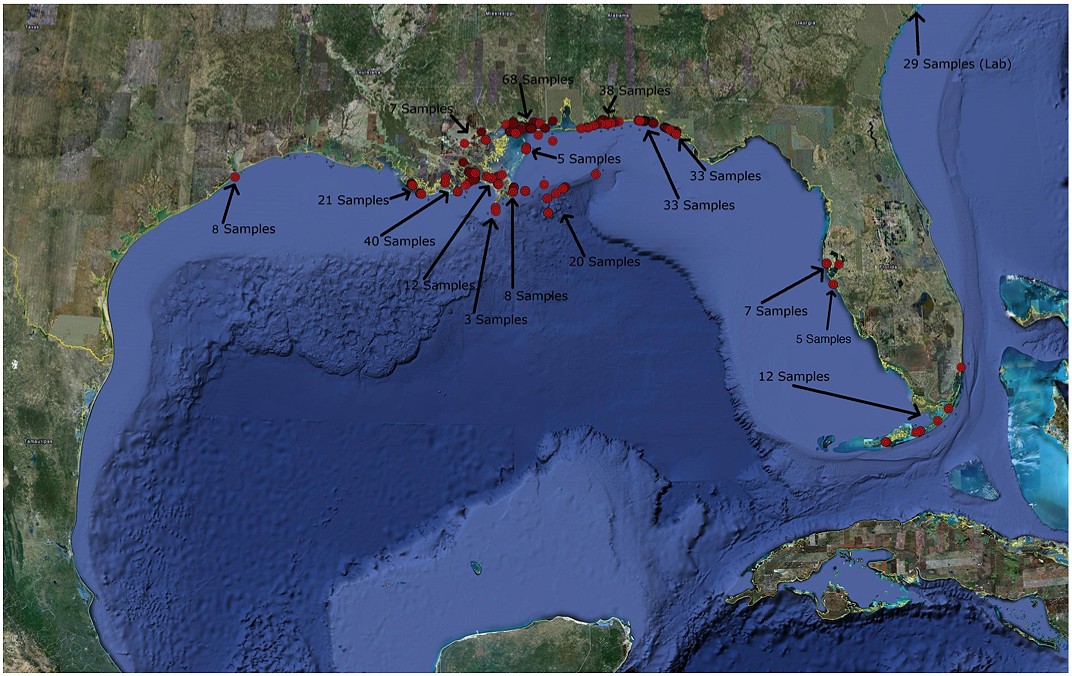 Above: Figure from Current Research on Polynuclear Aromatic Hydrocarbons in the Gulf of Mexico, Worcester Polytechnic Institute, M. Kaltofen, February 2012. Our research has been featured in Elsevier's most downloaded article in Marine Pollution Bulletin and was headlined on the Science page of the NY Times in August 2013. Our work was again acknowledged in a follow up piece in Marine Pollution Bulletin in Nov. 2013
Recent projects
Love Canal area testing, Niagara Falls, NY
Uranium processing wastes in Greater St. Louis, MO.
Fukushima reactor core particles detected in Nagoya, Japan. Details.
Radium in oil and gas field wastes, Broussard properties, Erath, Louisiana
Tracking radiological plumes from Fukushima, Japan : See more
Environmental depleted uranium, Belgrade, Serbia; supported by a grant from Jeff Ubois and the John D. and Catherine T. MacArthur Foundation.
Nuclear forensics; Hanford, WA, Los Alamos, NM, Mayak, Russia, Ganges River, India
Coldwater Creek, St. Louis, MO, former Manhattan Project wastes, site investigation
2010 BP oil spill in the Gulf of Mexico : See more
Murphy Oil Co. settlement in Louisiana
Monitoring cobalt-60 releases to the Techya River, Russia
Citizen-led Environmental Monitoring, St. Petersburg, Russia
Recent publications:
Radioactively-hot Dust Particles in Japan, (J. Sci. Total Env. 607-608C (2017) pp. 1065-1072)
Tracking legacy radionuclides in St. Louis, MO via unsupported 210Pb , J. Environmental Radioactivity, Accepted Dec. 7, 2015
Assessing human exposure to contaminants in house dust, PhD dissertation defended March 12, 2015; published April 9, 2015, WPI
High radioactivity particles in Japanese house dusts, Final report,
November 2014, Presented at 142nd meeting of the American Public
Health Assoc. Download
High radioactivity particles in Japanese house dusts, Preliminary data,
March 2014, Presented at WPI, finalist, 2014 GRAD Research
Award. Download
Worcester Polytechnic Institute, Measuring Radioactive Dust in Northern Japan: Fukashima Daiichi Isotopes in Home and Auto Air Filters and in Children's Shoes, poster presentation, March 2012
Presentation for the 139th meeting of the American Public Health Association, Radiation Exposure to the Population in Japan After the Earthquake Oct. 31, 2011, Washington, DC
Microanalysis of Heterogenous Radiation in Particulate Matter, an examination of radiation in dust samples from the regions surrounding the Hanford Nuclear Reservation, Los Alamos National Laboratory, and Midnite Uranium Mine. Master's Research Report, WPI 2009
Response to 'A critique of the manuscript: Distribution and concentrations of petroleum hydrocarbons associated with the BP/Deepwater Horizon oil spill, Gulf of Mexico', Marine Pollution Bulletin, November 2013
Microanalysis of Workplace Dusts from the Mixed Waste Tank Farm of the Hanford Nuclear Reservation, J. Environmental Engineering Science, February 2010,
"Corexit dispersants : BP Crude / Dispersant Mix Increases Polynuclear Aromatics Levels in Water & Marine Life in the Gulf of Mexico", poster presentation, WPI 2011
Selected invited lectures:
Massachusetts Institute of Technology, Media Lab, Lecture on radioactivity from hot particles in dusts, Sept. 2015
Dartmouth College, Thayer School of Engineering, Transport of radiation from the Fukashima Daiichi accidents, February 2012
Tufts School of Medicine, Oil & Dispersants from the Gulf Oil Spill, November 2011, October 2013
Tufts School of Medicine, Radiation exposure to the people of northern Japan, November 2011, October 2013
University of Washington, Radiation Transport by Hot Particles, October 2011
Worcester Polytechnic Institute, Current Research on Polynuclear Aromatic Hydrocarbons in the Gulf of Mexico, February 2012
Loyola University, Dispersants and their Effects on Polynuclear Aromatic Hydrocarbon Concentrations in Seawater, October 2010
Chelyabinsk School of Law, Chelyabinsk Oblast, Russia, International Trade in Radioactive Wastes, October 2007
Back

© 2016 Boston Chemical Data Corp. All rights reserved.